Special thanks to Melanie Rainer for writing this guest post.
Whether your kids are homeschooling, remote learning, or in-person learning this school year, Minno offers dozens of shows to support your educational goals.
Don't miss your opportunity to WING a $250 GIFT CARD from ChristianBook.com at the bottom of this post! Sponsored by Minno and Before the Wrath.
Why use shows to help teach my kids? 
When used in a balanced and intentional way, watching streaming shows and movies can be an incredible addition to your homeschooling endeavors. Why? Because stories unlock kids' imaginations and help them learn and remember concepts in a different way. Here are a few ways educational shows, like those found on Minno, help kids learn:
Kids develop empathy by seeing characters struggle and make decisions. They imagine themselves in the scenarios they see on screen, and parents can come alongside and ask questions like "What would you have done in that situation?" or "How did the character rely on God and His Word to help guide their decisions?" 
Kids remember stories and songs, which provide awesome memorization opportunities for both Scripture and complex ideas.
Daily or weekly show breaks can provide a much-needed pause from activities, allowing kids to slow down their bodies (and letting mom and dad take a break too!).
Shows can reinforce key lessons you have already taught, but through narratives and stories that approach concrete concepts in a more whimsical or fun way.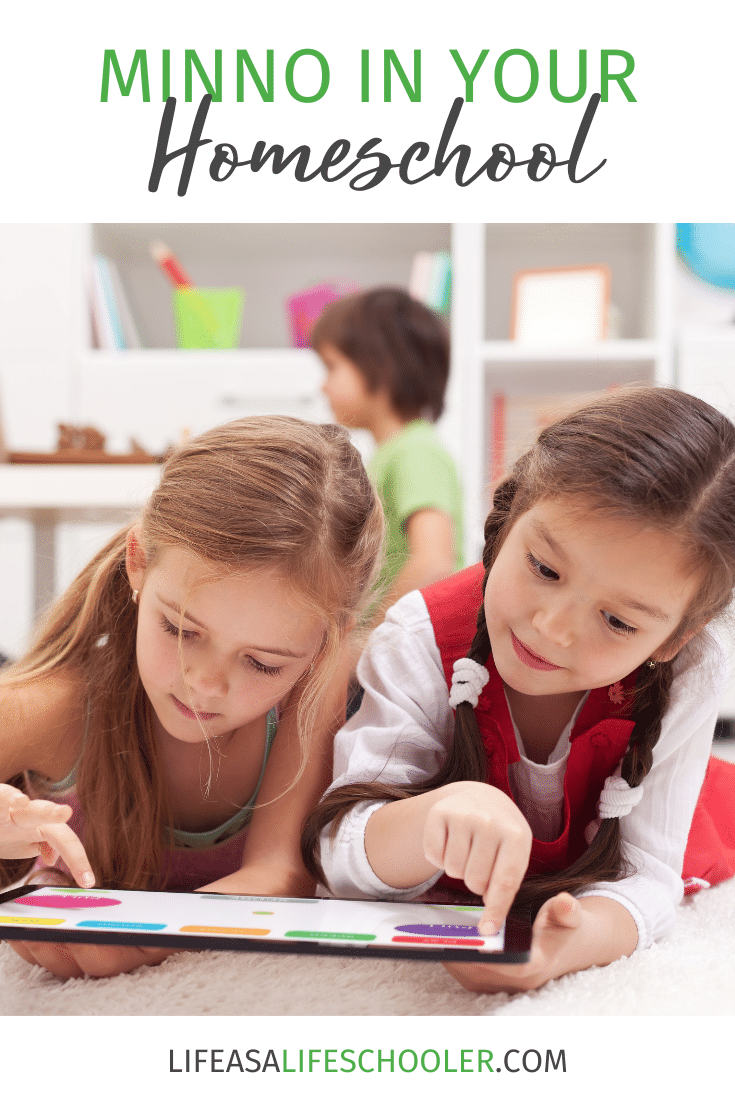 Homeschooling with Minno
Minno's catalog of quality and trustworthy shows offers you a wide variety to supplement your homeschool education. From shows geared to preschoolers all the way to preteens, everyone in the family can learn (and laugh!) with Minno.
My friends at Minno created a helpful guide to their shows based on school subjects. These are just a few of our favorites for each subject, and Minno is constantly adding new shows that kids and parents love!
Minno Shows to Incorporate into 9 Homeschool Subject Areas
Teach Kids about the Bible with Minno
What's in the Bible? from Phil Vischer (VeggieTales creator). This 13-episode show goes all the way through the Bible, from Genesis to Revelation! Best for: Ages 4+
Superbook. Two kids (and their robot!) travel back to Bible times to learn about God's Word. Best for: Ages 4+
Friends and Heroes. This really fun show follows two friends in ancient Rome as they learn about the stories of the Bible and the lives of early Christians. Best for Ages 6+
Bibleman. Bibleman and his team of Bible-loving heroes teach kids the importance of living in line with Scripture and the love of Christ. Best for Ages 6+
Owlegories and Night Owls & Early Birds. These two cute shows from the same creators teach sweet and important lessons about God and His Word. You will love this show! Best for Ages 2+
Social Emotional Learning on Minno
Social emotional learning involves helping kids grow in the skills they need to understand themselves and others. This growing area of education is really important, and Minno has several shows that help teach these concepts!
Treasure Champs. In this adorable British show, Kari and Barry learn about character traits and delightful story-tellers share Biblical examples of them. Best for Ages 2+
321 Penguins! Siblings Jason and Michelle travel through space with an intrepid set of penguins who show them Biblical truths about how to live. Best for Ages 4+
Micah's Super Vlog. Micah and his friends are 10-year-olds learning to follow Jesus in their everyday life. This show is so fun and kids will love how relatable the characters are! Also check out the Armor of God and Fruit of the Spirit series from Micah. Best for Ages 6+
Brewster the Rooster. Brewster and Maggie are curious and inquisitive by nature, and won't stop until they find answers to all their questions! This show inspires curiosity and critical thinking. Best for Ages 4+
Science Shows on Minno 
God's Amazing Animals. Clive and Ian (from What's In The Bible?) learn about all kinds of animals and how God's creativity shines through His creation in this cute series for little kids! Best for Ages 2+
Wonderful World of Science. Join Dr. Schniffenhousen for short science videos about everything from butterflies to chocolate. Best for Ages 2+
The Nature of God. In this show, Peter travels to many different habitats and ecosystems to teach kids how God created the world from the ocean to the forest to the desert! Best for Ages 6+
History Shows on Minno
Torchlighters. Each episode of Torchlighters tells the story of a real Christian from history, from William Tyndale to Corrie Ten Boom. Kids can learn about heroes of the faith who put their trust in Jesus. Best for Ages 8+
Friends & Heroes. Set in ancient Rome, Friends & Heroes teaches kids about life in the ancient city and what it was like for the earliest Christians. Best for Ages 6+
Minno's Best Music Shows
Yancy. Upbeat and fun songs from Yancy help kids memorize Bible verses and important truths about Jesus. We love "1-2-3 Jesus is Alive!" and "Hosanna Rock!" Best for Ages 2+
The Rizers. Short for "Memorizers," the Rizers sing Scripture and help your kids memorize God's Word. Best for Ages 2+
eKidz Worship. From Elevation Church, eKidz Worship includes amazing worship songs that kids and parents will enjoy. Best for Ages 4+
Art Shows on Minno
Louie. Learn to draw with this classic kids cartoon! Each short episode will show your kids how to draw something new. Best for Ages 4+ 
Come On Over. Join Joel and his friends in the backyard as they dance to music and make awesome art! Best for Ages 6+
Thanks!
Minno Shows for Physical Education
1 Minute Sports Clinic. These short videos teach key concepts from basketball, cheerleading, and soccer! Best for Ages 4+
Fruit of the Fitness. These very cute shorts teach kids about the fruit of the Spirit through exercise ideas! Best for Ages 2+
Minno Shows for Preschoolers
Jungle Beat. This show has no words, but it's beautiful animation and captivating storylines will have your preschoolers giggling and learning about perseverance and creativity. Best for ages 2+
VeggieTales. This beloved series stars a tomato named Bob and a cucumber named Larry who retell Bible stories with their vegetable friends. Introduce it to a whole new generation! Best for ages 2+
Owlegories. In this show, the little owls go to school and learn all about what it means to live as a follower of Jesus. It's super sweet and perfect for little ones! Best for ages 2+
Minno Shows in Spanish
Historias de Jesus. Six episodes of The Jesus Stories follow a group of friends as they learn all about Jesus from the Bible, in Spanish. Best for ages 4+
Yancy and Friends in Espanol Sing along to some of the best Yancy songs in Spanish! Best for ages 2+
Thanks!
Torchlighters in Espanol. Watch episodes of Torchlighters, which chronicle the lives of Christian heroes like William Tyndale and Corrie Ten Boom, in Spanish! Best for ages 8+
If you're already a Minno subscriber, we hope this list helps you enhance your homeschool experience this year.
Not yet a Minno subscriber? My friends at Minno have created a special offer just for our Lifeschooling community.
Family Discipleship is important and we want to be sure that you have help in teaching your family to seek Christ in all that they do! That doesn't stop when it comes to entertainment.
Having Christ-Centered and Biblical sound options helps ensure that our hearts and minds are stayed on Christ, and not so easily consumed by the things of the world.
This Christ-Centered Family Entertainment Pack Giveaway has something for everyone! To enter for your chance to win, simply use the Rafflecopter form below.
Giveaway ends September 22nd, 2020, at 11:59 pm ET. Must be at least 18 years of age. Must be a resident of U.S. or Canada to enter. Selected winners will have 48 hours to respond to email notification to claim their prizes or another winner will be drawn. You are responsible for reading the Terms and Conditions on the Rafflecopter form before entering.
This post is in partnership with Before the Wrath movie and Minno. This giveaway is possible because of the generosity of our sponsors; Lifeschooling Conference, Minno, Before the Wrath movie, Heart and Soul Homeschooling, The Frugal Grandmom, They Call Me Blessed, Clarrisa R. West, Peace Creek on the Prairie, Beyond the Stick Figure, Sound Foundations Homeschool, Whole Child Homeschool, Homegrown Motherhood, and Fun With A Message.