Last week, I had the opportunity to share my thoughts on the recent Kendrick brothers documentary, Show Me the Father. In keeping with the fatherhood theme, the Kendricks will also be re-releasing their popular movie, Courageous, on September 24th with some additional new scenes! This remastered and updated version is being called 10th Anniversary Courageous Legacy, and is the perfect counterpart to Show Me the Father.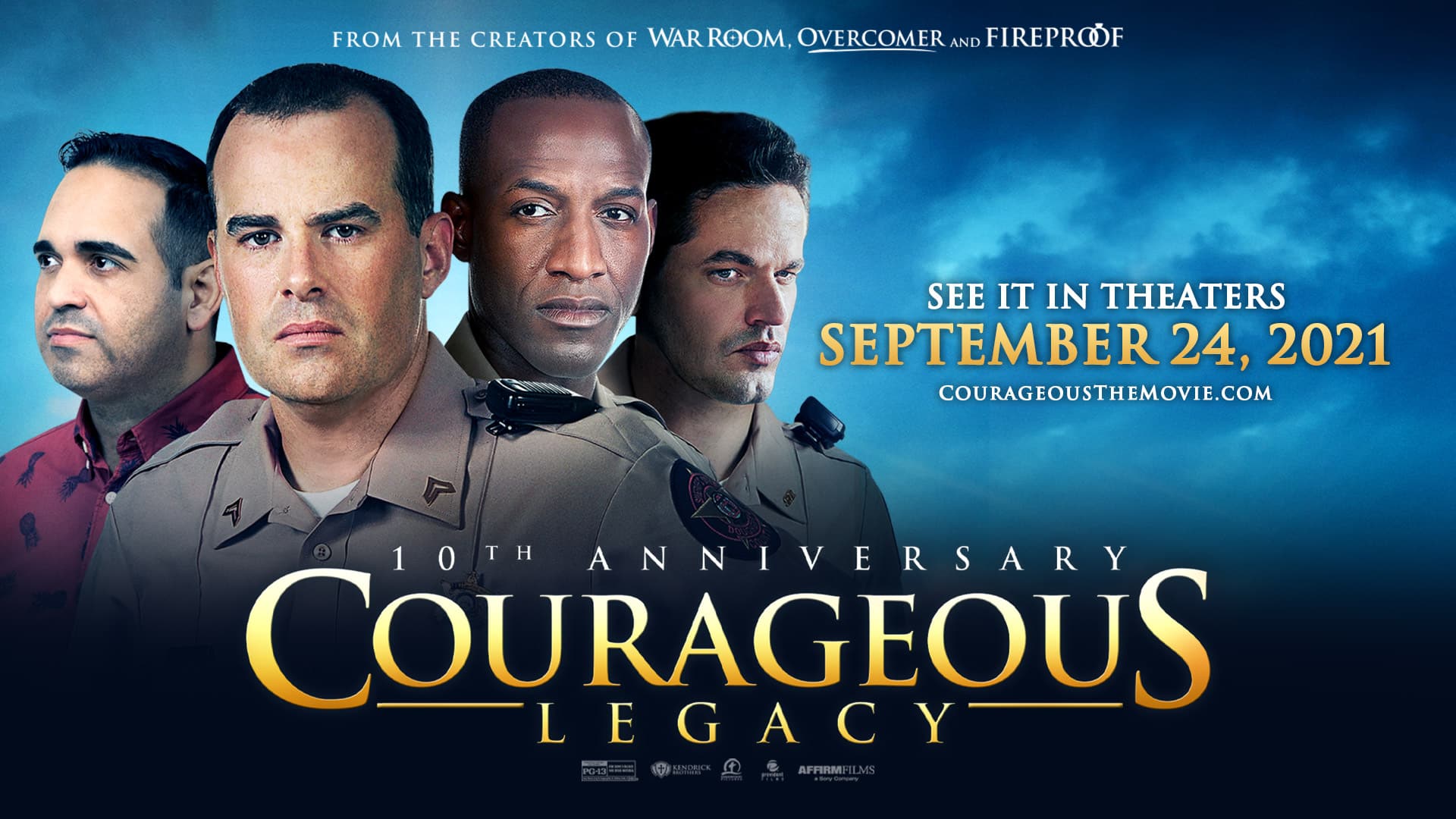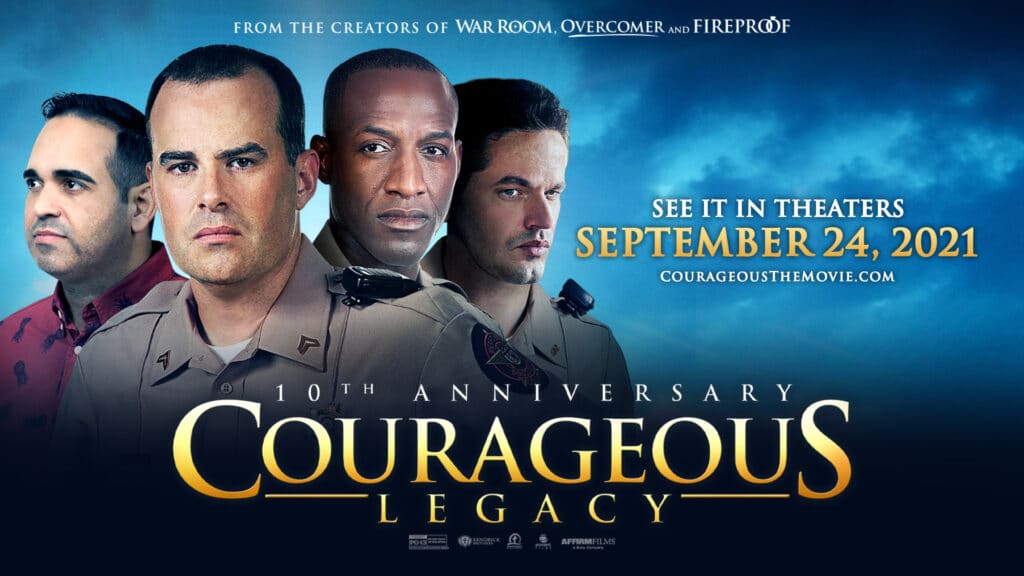 Courageous Legacy: A Movie Review of the Kendrick Brothers Latest Release
If you haven't seen Courageous yet, now would be a great time to finally sit down with your family and watch the updated anniversary version! That's just what we did last Saturday for family movie night, and even though we've seen the original movie a number of times, we thoroughly enjoyed seeing it with the additional footage. The message of the film never gets old, and the entertainment factor continues to deliver.
Synopsis of Courageous Legacy
What does it take to be truly courageous? Serving and protecting on the streets, putting oneself literally in the line of fire? Or can courage come in the everyday tasks that so many of us take for granted? In Courageous, four men who serve as police officers for their day jobs learn that the ongoing job of being a father takes just as much courage. Through the trial of unexpected tragedy, they each vow to recommit themselves to being the type of loving father that is described in Scripture.
But this movie is not preachy or dry! It comes complete with what you'd expect from an action-packed movie centered around police officers, but also touches the heart, bringing the viewer from laughter to tears, and back again.
Intended Audience for Courageous Legacy
Due to the intensity of some of the action scenes, and the topic of drugs being touched on, Courageous Legacy is rated PG-13, but I personally would have no problem at all bringing my almost-10-year-old to see it. And in fact, we did watch it for family movie night in order for me to write this review.
As I type this, I think it would probably be good for us to have a more intentional conversation about drugs and its dangers, but we don't shy away from such topics, keeping them age-appropriate, so there's probably not much else I could share that he hasn't already picked up on from general family discussions. There was nothing objectionable to me about Courageous Legacy, but if you have a younger or sensitive child, you may want to be careful.
What We Liked about Courageous Legacy
Strong Fatherhood Message of the Movie

Just like Show Me the Father, this film also has a strong fatherhood message. I believe one of the keys to the restoration of this nation is that fathers would return to their roles as leaders and protectors in the home. I don't think it's an accident that the Old Testament ends with this verse:
And he will turn the hearts of fathers to their children and the hearts of children to their fathers, lest I come and strike the land with a decree of utter destruction." – Malachi 4:6
I am currently reading (along with about 60 other books…LOL) a book called The Naked Communist, in which is listed the goals the communists laid out for America back in the 50s, I believe. One of the agendas was to destroy families by encouraging no-fault divorce, feminism, homosexuality, etc. Is that not what we've seen take place in our culture? Oh, how we need a return of the fathers hearts to their children! Such movies can speak to the fathers of this culture in a powerful way.

Engaging Story of Courageous Legacy

As with all the Kendrick's movies, Courageous has an engaging story, complete with emotional highs and lows. There are some tense scenes with car chases and shooting, but always humor at the right times to lighten the mood. One of my favorite parts is the confusion caused when Javier accidentally gets hired for Adam's construction project, leading to a classic "who's on first" situation!
Diverse Cast
While statistics may say that most people in our country look a certain way, it's always nice to see the body of Christ represented in all it's beautiful colors! Different cultures bring in a learning opportunity, and let's face it, when someone looks more like us, we usually feel we can relate better. It's nice for everyone to feel included and able to identify with the characters.
Additional Scenes
I really loved the additional scene at the end of the movie! I have always felt that there was somewhat of a question left at the end of the original movie. That's not always a bad thing, and sometimes you want to feel like there's room for the story to continue later, as long as there are no big questions left hanging. So it never bothered me too much, but I did feel like I wanted a little more. This ending gave me some "closure" and really wrapped up any possible loose ends.
It was a unique and fun feature to see the characters aged 10 years, too! And while I think Alex Kendrick is certainly a good actor, I mentioned to my family that I think his acting has shown some improvement since Courageous was first filmed. He seems even more natural and believable as his character.
What We Didn't Like about Courageous Legacy
Lacking in Character Exploration

I really had to dig to come up with this, so it is a minor criticism for sure! But I always try to find at least one criticism because no film is perfect. I do think some of the characters could have been developed just a bit more, in particular Adam and his wife's daughter. However, as I said, this is a minor issue in my mind and not something that affects the movie much. I just would have liked to feel a bit more attachment to her character in order to feel more emotion as the story developed. I think it would have helped, though time constraints can sometimes limit such things.
Lifeschooling Talking Points for Courageous Legacy
The Father Heart of God
Just as with the documentary, this film also provides a chance to study more about God as our Heavenly Father. We often pray, "Dear Heavenly Father," but do we know what that really means? It's important to teach our children what a loving father looks like when they are young, but we all fail at times to be a good example. If they know the nature of their Father in Heaven, they can find security in Him, even when we don't measure up. If He is their ultimate father, they will turn to Him in all things. If your any of your children do not yet know God as their Father, this is a good time to present the Gospel.
Profession of Police Officer

If your child has an interest in police work, this film gives an exciting look into the profession and may open up further discussions and opportunities for research. What are some of the duties of a police officer? Does every day look like car chases and arresting gang members? What are the best and worst parts of the job? What kind of character and training does one need to have? These are all important questions to understand before pursuing the profession, and you can encourage your child to research the answers and write a paper or give a verbal report.
But whether or not your child has an interest in police work, it's important for them to understand how valuable police officers are in our communities, especially given our current political climate. The action scenes in Courageous should certainly emphasize this point!

Hispanic Culture

I really enjoyed a peek into Javier's household with the Spanish phrases and culture peppered about. This may be an opportunity for your children to explore learning Spanish, or even just a bit more about the culture and foods. To make movie night more fun, you could fix a Mexican meal to eat while you watch! Do they know where Mexico is on the map? Do they know the history of the country? There are many opportunities for learning and exploring!
Final Thoughts about the Movie Courageous Legacy
10th Anniversary Courageous Legacy is an engaging drama that would make a wonderful companion to the documentary, Show Me the Father. I am so thankful that the Kendricks released these two movies within weeks of each other to speak to fathers on both the intellectual and emotional levels.
Fathers, I highly recommend that you see both films when they come out in theaters and spend some time searching Scripture and reflecting on your role within the family unit. And don't forget to download the Resolution from the Courageous Movie website and even make an event out of signing it, just like they do in the film! The importance of a strong, healthy father-child relationship is a foundational concept, and I pray that these two films make a huge impact for the Kingdom!