What does Hand Sanitizer with Essential Oils have to do at all with lifeschooling? We'll get to that in a minute! But first… I have always hesitated writing or talking specifically on our actual implementation of lifeschooling for a few reasons:
Each home is different and each family should pray and ask God for a vision of how to implement the philosophy of lifeschooling.
Each day in our home is so different! I have a hard time with schedules and routines, so we bounce around and try a lot of different things.
Our lifeschooling often leans more towards "unschooling" in implementation, though I don't see this as ideal.
In other words, I am not always so confident in what lifeschooling ends up looking like for us! There. I said it. We're imperfect…just like you! And truth be told, reason #3 is probably the biggest one for me.

But one thing I always try to emphasize is the fact that God isn't looking for perfect homeschools. He's looking for faithful children who seek after Him. When you boil it down to the "one main thing," this is it:
Teach your children to love God and to love their neighbor as themselves.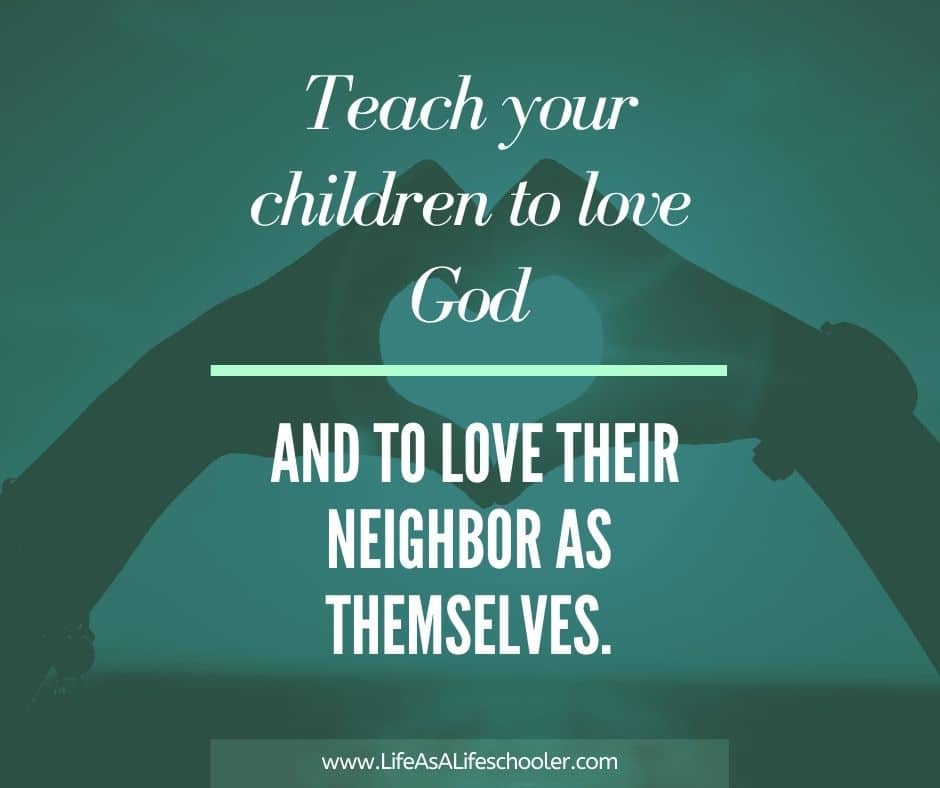 Isn't that what Jesus said summed up the entire law? I think we would be wise to implement it as the priority in our homeschooling, then!
That being said, when we look at Scripture, God not only teaches us truths about how to live, but He also graciously gives us examples to follow and emulate. And those examples were never perfect people, by the way! So however imperfect, I want to share with you what I consider an ideal (though admittedly not necessarily "typical") lifeschooling day. This week, we've actually had a pretty successful week in this regard!
First, I want to go through what it looked like more organically, but if you'd like to skip to the step-by-step, you can scroll down to the end.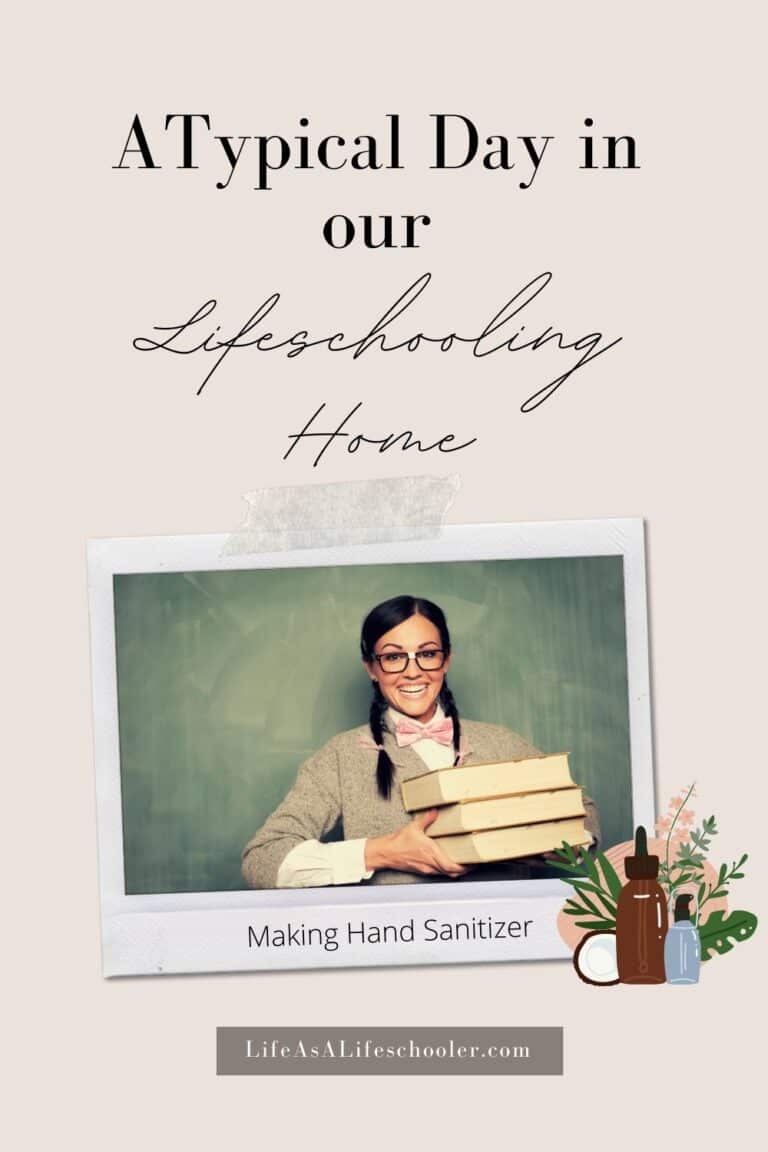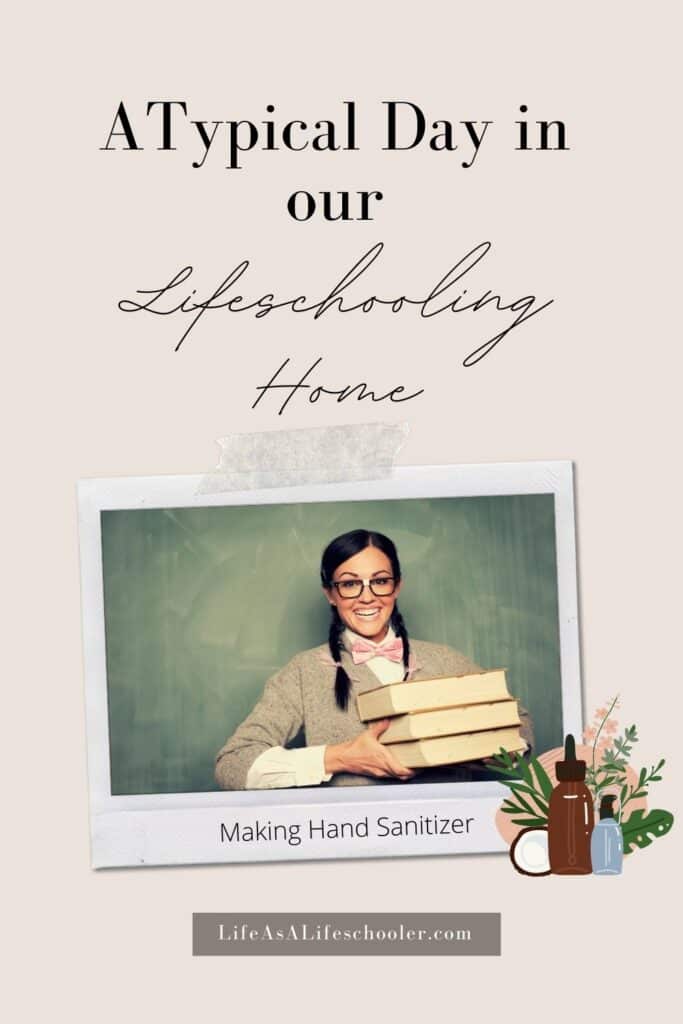 This post contains affiliate links, meaning I will receive a percentage from any of the sales through these links. However, I only recommend resources that I believe in and usually have personal experience with, so I know you'll find them helpful!

Lifeschooling Science and History through…Hand Sanitizer with Essential Oils?
On our best lifeschooling days, we are centered around God's Word and also the practical aspects of our lives and things that need to get done. I often look through my list and pray for God to show me what to focus on that day.
That is exactly what I did this week. And do you know what was on my to-do list? You guessed it… Make hand sanitizer with essential oils! Now, I'm not a germophobe by any means (hooray for strengthening our immune systems!) and I also believe we can do more harm by killing the "good" bacteria on our skin, but I've seen the people who lurk in Walmart and I don't think I want their germs. Ha!
That being said, since I don't prefer the chemical-laden hand sanitizers that can be purchased at that same said store, and since I own way too many bottles of essential oils, I figured it would make sense to just make my own!
So, this seemed like the perfect lifeschooling opportunity to involve Korban and learn about germs, medicine, and following a recipe.
Finding Relevant Resources
Off to explore the resources! I found a textbook on biology called Exploring the World of Biology that I picked up from Master Books during one of their flash sales, so I flipped through and was happy to discover that they had a chapter related to the ancient Greeks and medicine. This was a perfect fit, since we just finished studying ancient Greece!
I next found a book called Discover Hidden Worlds: The Human Body that shows many close up photos of germs, bacteria, etc. under a microscope. I talked about how making our hand sanitizer would help kill these germs.
Later, I had some errands to run, but that was no need for Korban's learning to stop just because I wasn't there. I am a strong believer in teaching kids to be independent in this area. So I found a video on germs called Newton's Workshop: The Germinators that he watched while I was gone and reported on to me when I returned. (Okay, full disclosure…by "reported," I really mean that I asked how it was and he basically told me, "good." LOL. There may need to be a little more follow-up!)
With life happening, as well as some math work, reading, and a few other learning experiences, we didn't get to the hand sanitizer right away. But that's okay! I found a great recipe, which I adapted to ingredients I already had on hand, and we got around to making it the next day. Now I have a lovely smelling, natural hand sanitizer that I can keep in my purse and use whenever I need it. And I found a way to make a necessary task part of our learning, rather than an interruption to it!
Want the hand sanitizer with essential oils recipe? Here you go…
To a 2 oz. glass spray bottle, add:
1/2 tsp. jojoba oil (I used this one)
2 tsp. aloe vera gel (make sure it's pure, since the term 100% aloe actually just means 100% gel and have all kinds of additives! I actually used Miracle gel, which is similar to aloe.)
4 drops tea tree essential oil
4 drops lavender essential oil
3 drops lemon essential oil
1/8 tsp. vitamin E

1/2 tsp. calendula oil
ethanol or isopropyl alcohol (I used isopropyl) to almost fill bottle
Add the spray cap, shake well, and you're done!
And if you need a really great essential oil, I would highly recommend Nature's Fusions. and use my special code, DANIELLE15, for 15% off your order!
So, in case you missed it, here are the basic steps I take to have a successful lifeschooling day/week.
5 Steps to a Successful Lifeschooling Week
Step 1: Pray through the to-do list and ask God to show me what needs to be done.
Step 2: Consider which to-dos can involve my kids and how those things involve academic learning.
Step 3: Gather and organize books, curricula, and other resources. (This is where it helps to take an inventory of your materials! An inventory list is included in the Lifeschooling Vision Planner.)
Step 4: Plug it into the schedule and adjust as necessary. (Always keep your eyes open for other resources as the day/week progresses.)
Step 5: Record what learning took place and organize into appropriate subject categories.
What ways have you found this week to incorporate life into homeschooling? Share them with me below so we can all learn together!
And if you want to extend the learning (and fun!) with more recipes, tips, and facts about lavender essential oil, be sure to grab the Free Lavender Coloring Book below!