When my husband was young, he was inspired to ask for wisdom by this verse.
If any of you lacks wisdom, let him ask God, who gives generously to all without reproach, and it will be given him.
– James 1:5, ESV
The thought that he could just pray and ask for wisdom and God would give it to him was exciting. He decided to see if it was true. And God was faithful! Jon is such a wise man and I always know I can trust him to lead me and our family well.
When our oldest was young, we decided it would be a good idea to teach him to do the same thing. We wanted him to follow in his father's footsteps. After all, if wisdom is the "principle thing" (Prov. 4:7), then that is THE most important thing we can give our children in their education. And it makes our job easy since all they have to do is ask God for it! Sometimes we take on so much of the responsibility of teaching them everything, but this lesson is so simple to impart. We may mess up in our parenting, but if we've taught them to ask for wisdom, God will be faithful in His parenting.
The Most Important Lesson
So we talked about Solomon and how much wisdom he was given, simply because he asked. Our son really took it to heart and began to pray for wisdom. It didn't take long before we started to see the results of those prayers! We didn't have to ask if he was praying for it because we noticed the wisdom he began to display in his actions and speech.
We did the same with our daughter and she, too, is very wise today. We were all just talking about this the other day and she said how much that impacted her. It was an amazing thought to her that she could just pray and God would make her wise! But as she did so, she realized that this was more than a "secret little trick." This was something infinitely valuable that would help her in all of life.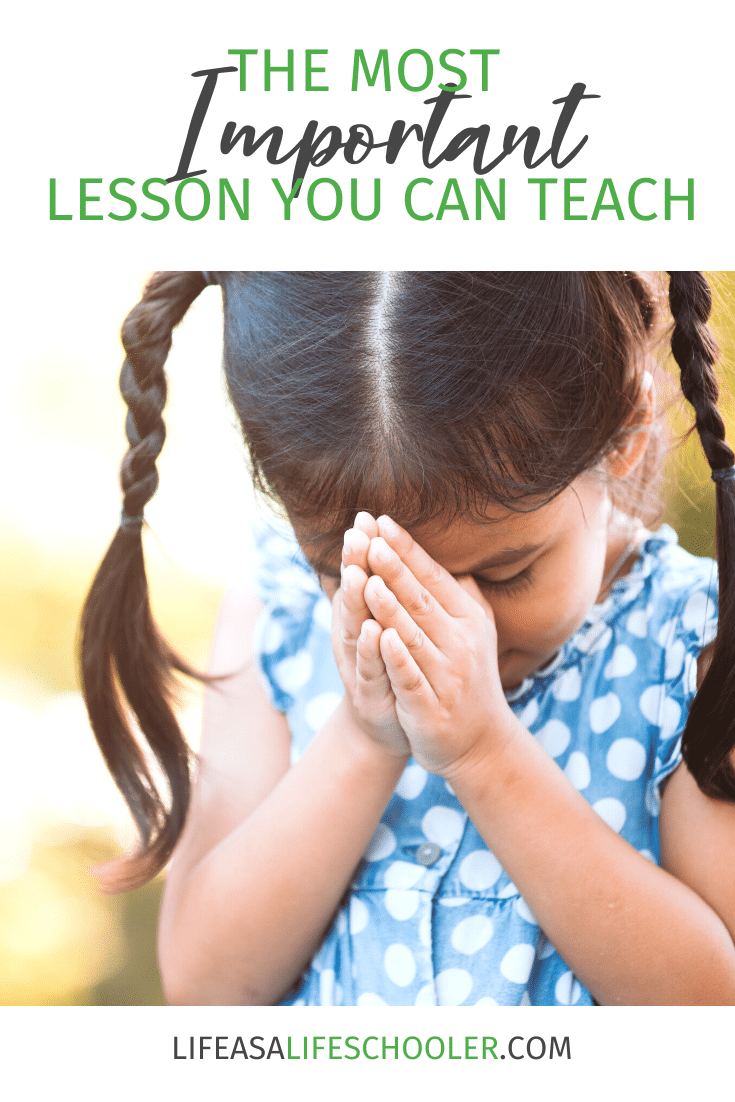 One of the ways we allow our children to practice wisdom is by encouraging them to pray about decisions rather than always making them for them. For example, my older two are not always feeling up to going to church due to their chronic health issues. But I know they love the Lord and have a good relationship with Him.
So, I have started telling them to pray and ask Him what to do on Sunday mornings. It is wonderful that I can trust them and they are learning to live as adults this way. Often when they are exhausted and feel physically unable, they still end up going because they feel the Lord wants them to. And they are always blessed for it and it takes away the outward pressure. Isn't that what we want? For their faith to be internalized and the decisions to be from their own hearts?
Asking for Wisdom with the Faith of a Little Child
I've even started helping my youngest start practicing wisdom. The other day I decided we would do some review of character qualities we have studied. Instead of choosing the ones I thought he needed to work on, I asked him to look through them and pray about which ones he thought he needed to work on. Isn't it interesting that he chose the exact two character qualities I already had in mind?
But as I was putting together this post, I realized one more reason that it's important to start young with teaching wisdom. The verse directly after James 1:5 is this…
But let him ask in faith, with no doubting, for the one who doubts is like a wave of the sea that is driven and tossed by the wind.
When we consider that Jesus continually told people that they must have the faith of a little child, then now is the ideal time to teach our children to ask for wisdom in faith!
I hope this gives you some encouragement today to help your children grow up and become wise by learning to listen to their Father! This is the most important thing you can teach in your homeschooling.
Wisdom is the principal thing; Therefore get wisdom. And in all your getting, get understanding.
– Proverbs 4:7, NKJV