Although it may seem easier said than done, you can begin raising mission-minded kids. For many years when my oldest two kids were young, we went every Friday with other believers to stand in front of our local abortion center. It was an opportunity to share the Gospel. We handed out tracts and information, and offered free ultrasounds through a ministry called Cities4Life (now LoveLife). Now that they are adults, I can look back and see what an impact that had on their current spiritual walks.
Raising Mission-Minded Kids
The Saint Patrick Influence
With Saint Patrick's Day last month, I thought it would be a good time to re-evaluate what I'm doing with my youngest. I also want to help you think about how you are raising your own kids to be mission-minded. If you don't know the story of Saint Patrick, now would be a great time to sit down and learn with your kids! Did you know he was kidnapped as a teen, spent years as a slave, escaped, and then actually returned to the people who stole him?
Although he grew up in a Christian home, Patrick had little interest in the things of God, but the trials he walked through bore fruit in his life from the seed that had been diligently planted in his heart by his faithful parents.
There are times as parents when we wonder if our diligence is paying off! Patrick's life is a good reminder that God's grace is sufficient and that He will do the work if we are faithfully planting the seed. We are not responsible to make the plant grow, but only to plant and water the seed!
So, what seeds are we planting in our children to help them become missionaries someday, or at least mission-minded disciples of Jesus, sharing the Gospel in everyday life? Here are some ideas for raising mission-minded kids.
Ideas for Raising Mission-Minded Kids
1. Get involved at church.
This is one of the most basic ways we can raise mission-minded kids and is foundational to their spiritual walks. Being in church every Sunday is important, but we are specifically commanded to not just be hearers of the Word, but doers! So often there are needs in the local church that are not being met.
Children's ministry is a great place to start and often an area of huge need! If your church allows it, let your kids come and help serve alongside you. As they get older, they can transition to teaching the lesson and sharing the Gospel with the younger children.
2. Get involved in ministries in the community.
Beyond the doors of the church are many opportunities for raising mission-minded kids by involving them in ministries such as food banks, pro-life work, or foster care. As I already mentioned, pro-life work was a big part of my older two kids lives and God has woven it into their early adulthood, as well. Konur volunteered with LoveLife for a couple years, leading the A/V team (a role he liked to refer to as the "Holy D.J." Ha!), and just last year, he and his sister had the amazing opportunity to be a part of the Kendrick's pro-life movie called Lifemark that comes out in the fall of this year (2022).
Ministering with me out on the sidewalks at the abortion center as children deepened their walk and reliance on God, as it was tough work and truly lifeschooling "Bible class." And it also showed them the ugly side of where sin leads.
If there is a particular area you and your kids feel burdened for, but you are not able to personally get involved, then be involved by praying!
3. Witness in everyday life.
Sharing the Gospel and ministering to others does not have to be a formal affair. In fact, if all we do is serve in a formal capacity, then we are not showing our children what it truly means to be mission-minded! Our focus should always be on Jesus and how we can shine His light to others by serving and ministering to them. Here is a great book that will give you some actionable ideas.
Also pray for natural opportunities for you and your kids to share what God has done in your lives. Be sure to keep some tracts on hand (we love Living Waters resources). I certainly have a lot of work to do in this area. But, I will say that when we were regularly involved in pro-life work, it became much more natural to bring up Jesus-centered conversations with people and hand someone a tract.
4. Study famous missionaries (YWAM books, audio books, etc.).
One of my favorite memories with my older two kids (now adults) is sitting down every Sunday and reading a missionary story aloud to them. There are so many inspiring heroes of the Christian faith who sacrificed so much to share the Gospel with the lost.
One of our favorite book series was the YWAM books. They are simple enough for younger children to read on their own, too. You can also incorporate audiobooks. To deepen your learning and relate it to a formal school subject, use this awesome Country and Missions study I created. They combine learning about missionaries with the countries in which they ministered. Yay lifeschooling! 😉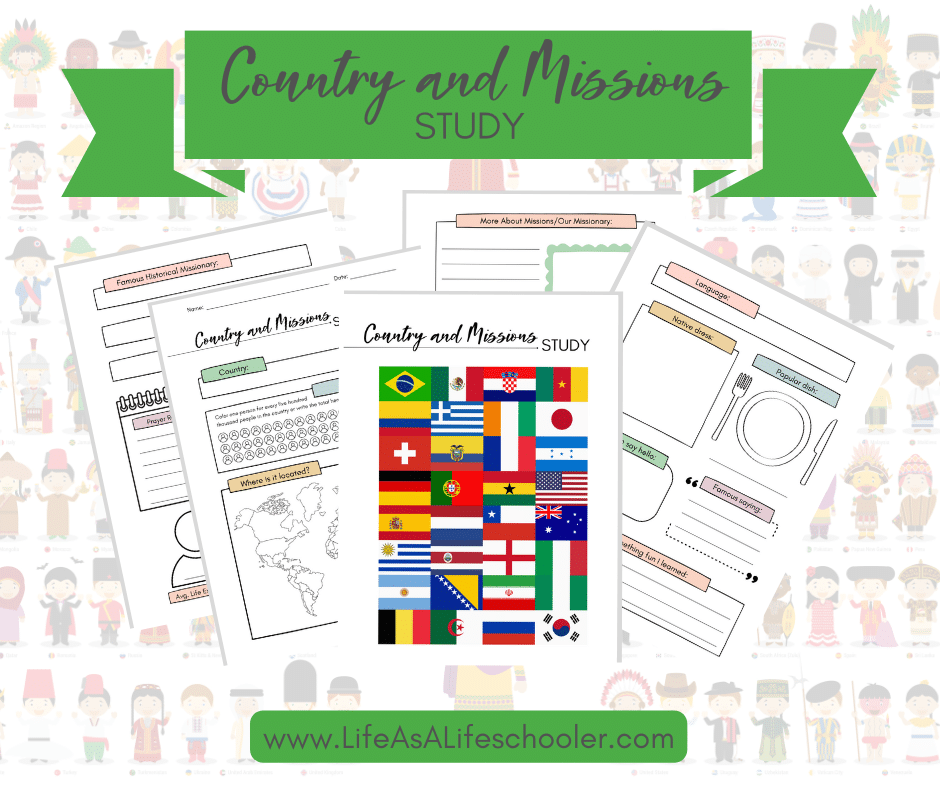 5. Pray for and support missionaries.
Teach your children to be prayer warriors and intercede for missionaries who are on the field. Subscribe to their prayer letters and pray for their needs in your family devotions each day. Also, consider what missionaries you can "adopt" by also sending financial support. Those of us who live in the US have so much in the way of material possessions. Our money can go so far in another country! Teach your children to store up treasures in heaven by sharing the Gospel and supporting those who do it as their full-time work.
Final Thoughts
Ultimately, raising children to be missions-minded starts with our own hearts and lives! Are they seeing our heart for our neighbor in need? Do they see us witness/ share testimonies of God's grace in our lives with those we come into contact with? Look for opportunities and take them! Become what you want to see your children become and it will be a natural process.