In the fall of 2018, my oldest two children, Konur and Elleina, had the wonderful opportunity to help with a film project their friend, Matthew McCoskey, was creating. What an amazing experience this was for both of our families!
We have been friends with the McCoskey family for close to 10 years now, and despite the stress and trials that naturally occur with such a mammoth undertaking, it was such a blessing for our families to work together. Matthew had the vision, but this project was truly bigger than one person could accomplish and it was incredible to see how God brought all the right people along and worked out every detail!
I asked my dear friend and Matthew's mom, Barbara, to write up a blog post explaining how Matthew lifeschooled that year and how all the subjects integrated into his project. This was school for him over the last nearly two years, and I have enjoyed watching him grow and mature through it! Here is Barbara's perspective on how the academics came into play…
Have your children ever come to you with an idea, a passion, or a drive to do something but you have wondered how in the world you could fit it into your already full schedule? Have they approached you multiple times to the point where you know that you need to help them implement their ideas? But you just don't know how or where to start? I would like to share with you our family's experience to the very questions I have asked. Two years ago, our son Matthew came to us with the idea of making a short film from a story he had been working on. I knew he was very serious about taking on this film project because he would ask me daily if he could. I spoke with my husband about it and we decided we would support him 100%.
What came next…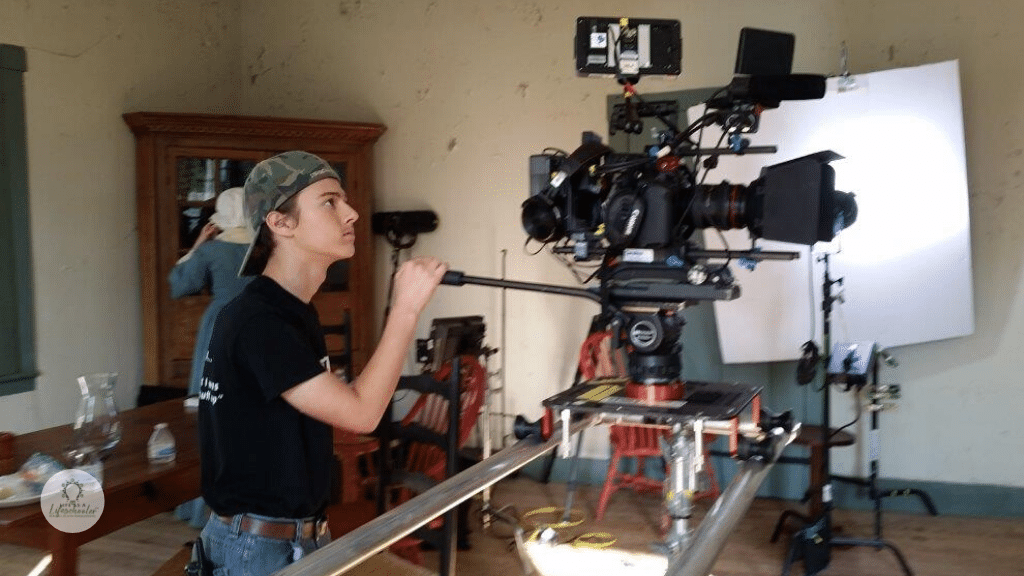 Lifeschooling through a Film Project!
Later that summer, before he started high school, we signed Matthew up with Tomorrow's Filmmakers, an excellent online film school. We told him if we saw his commitment to the program, we would allow him to make the film during his freshman year. He was very committed. Soon his "home movie project" turned into full-scale film production. It included cinema line professional cameras, manufactured movie sets, on-location historical sites, and much more. This project ended up giving our son (and daughter, Elisabeth, who helped him throughout the project) an education that far exceeded what we had originally planned that school year. Our simple school subjects for math, reading, science, history, and writing went from freshman high school level using books and YouTube to college-level learning and real-life training from professionals in the field of filmmaking and camera operation.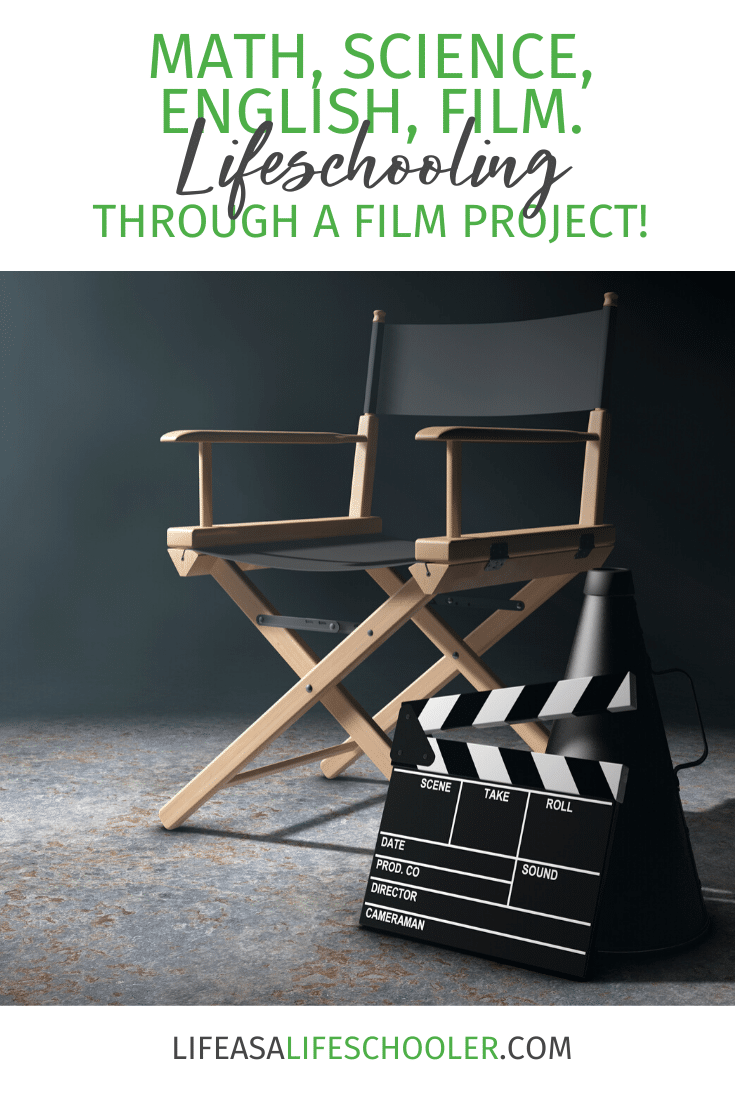 Traditional academic courses now became life-in-action courses.
Here are a few examples of the many lessons he learned in different subject areas:
Math involved logical thinking of the whole scope in making the film.
He used Algebra to calculate the final movie-length based on how long each scene would be. He used it to calculate the number of days needed for shooting. To calculate call sheets to plan exact time slots and to prepare his actors and crew for each day.
Geometry was used in planning his camera angles and B-roll shots.
Computer science involved creating and organizing dozens of files and back-ups. It involved learning multiple computer programs designed for filmmaking. And involved calculating his system needs to upgrade an old computer system to one of mass speed, space, and capabilities.
For Science, he used physics to balance a variety of cameras and lighting dozens of scenes.
English involved writing the script with Elisabeth and some of their friends (Konur and Elleina Papageorgiou) to make a cohesive and comprehensive story. Reading various manuals and tutorials on cameras operation, lighting a subject, getting that audio mix just right. He also wrote up contracts with professionals in the film industry as well as with the office directors of historical locations where we needed to film.
Matthew even had to do Public Speaking, as he prepared and gave speeches for his film events.
History was a huge part of the project. Since the film was set in 1773, Matthew and Elisabeth did in-depth research on the 1700s time period. They studied the culture from behaviors, social environment, language, dress, clothing (including the fabrics and sewing techniques). Tools used for work, hairstyles, trades, apprenticeships, relationships, foods, products, sicknesses, the legal system, authority, and much more.
Even home economics came into play as Matthew figured out his budget for the film, and Elisabeth designed and fabricated all of the colonial period costumes for each of the six principal actors and eight extras.
Lifeschooling is so much more than academics.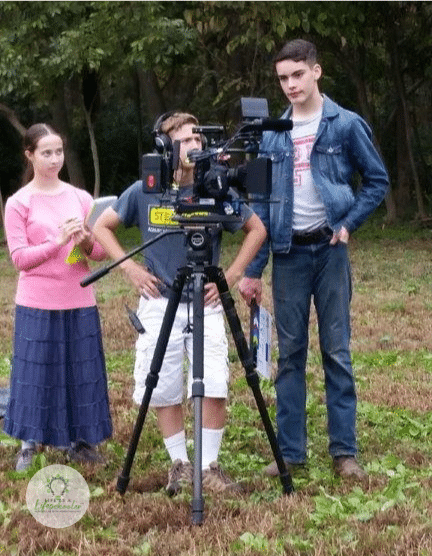 More importantly, both children gained practical life skills and character building. As the Director of the film, Matthew learned how to be a leader, teacher, and trainer. Most of the crew had never worked on a movie project before. Matthew had to teach them about movie sets in general and how to do their crew and acting positions. He put people in the right places to implement what he needed to accomplish. Matthew increased his social skills by interacting with professionals in the industry, learning, and communicating with them at their level. He accomplished time management and project management on a college level. Elisabeth had to work diligently to ensure the script was being followed without over-riding anything her brother (the Director) had said. It was a marvelous thing to see them working so well together as siblings, but also in a professional manner as co-workers.
This is just a sample of all that occurred in our son's school year. It didn't even touch on his year of editing or working with professional musicians to create nineteen original songs for his film's soundtrack. From his idea to film a movie, his passion to want to do it, and his drive to push him to make it come about, he did just that. Our son made his first short feature film, The Stolen Life, which was just released on March 20, 2020, and is available on DVD or on-demand.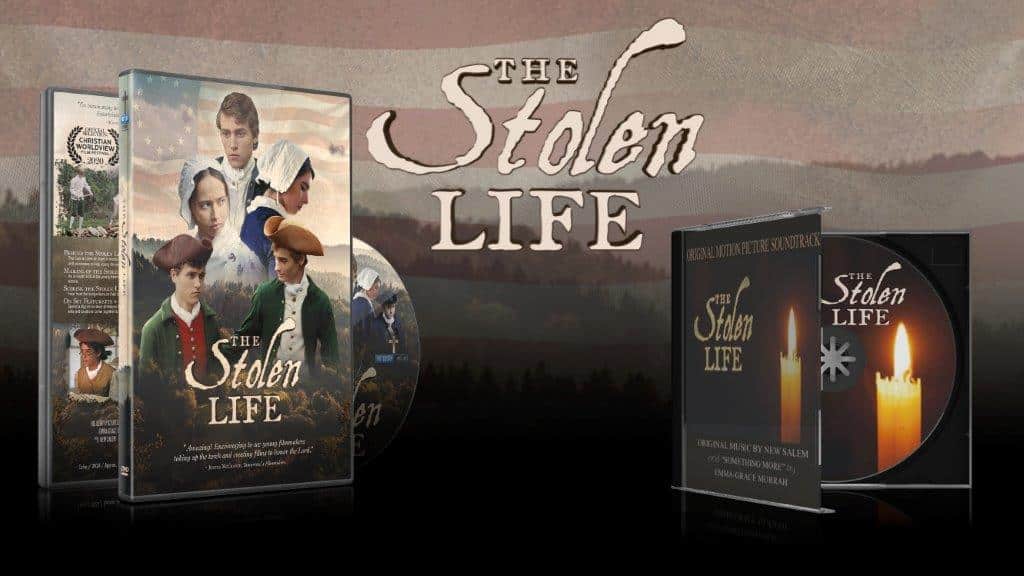 In all, it was a long but very rewarding time for our family.
To help your own child with his/her ideas, passions, and drive to do it, we would
recommend the following:
Listen to your child's ideas, hopes, needs for the project
Pray about it
Observe what he/she has done previously to begin such a project
Give them a task to assure that once they have begun their project they will finish it to completion
Talk timelines.
Talk expectations
Encourage the idea
Stand behind them 100%
Pray for every step and decision with the project
Be ready to help them when they fall and teach them how to handle real-life lessons. How to handle the easy and the hard lessons, as they happen.