In this post, I'd like to share eight great spice mixes to make with your kids. Even starting at a young age, your kids can begin to the learn the power of creating spices and using them to cook. And since July is National Culinary Arts month, it's a great time to explore this topic!
Where It All Started
When I started dating my husband in high school and visited his home, I was amazed by the bold flavors of his mom's cooking. She used spices and used them liberally! At first, I wasn't so sure I liked it, but it didn't take long for me to love her cooking!
Eventually, Jon and I got married and he taught me how to cook like his mom (and I was not offended). She and I started ordering spices in bulk together, but storing them in tiny spice jars we did not! We used large glass jars that once held our canned peaches and pears from Trader Joe's. I still love those jars.
One thing I have learned to do with all these wonderful spices is to create a variety of spice blends. It simplifies the process of cooking and saves the time of opening a half dozen bottles every time we want to make spaghetti sauce, tacos, or a whole chicken.
Plus, it's really fun and easy to do with your kids, and makes a great real-life learning experience! So many different subjects can come into play if you get creative.
So, let me share some of our quick and easy blends, and ideas for lifeschooling as you and your kids get this job done!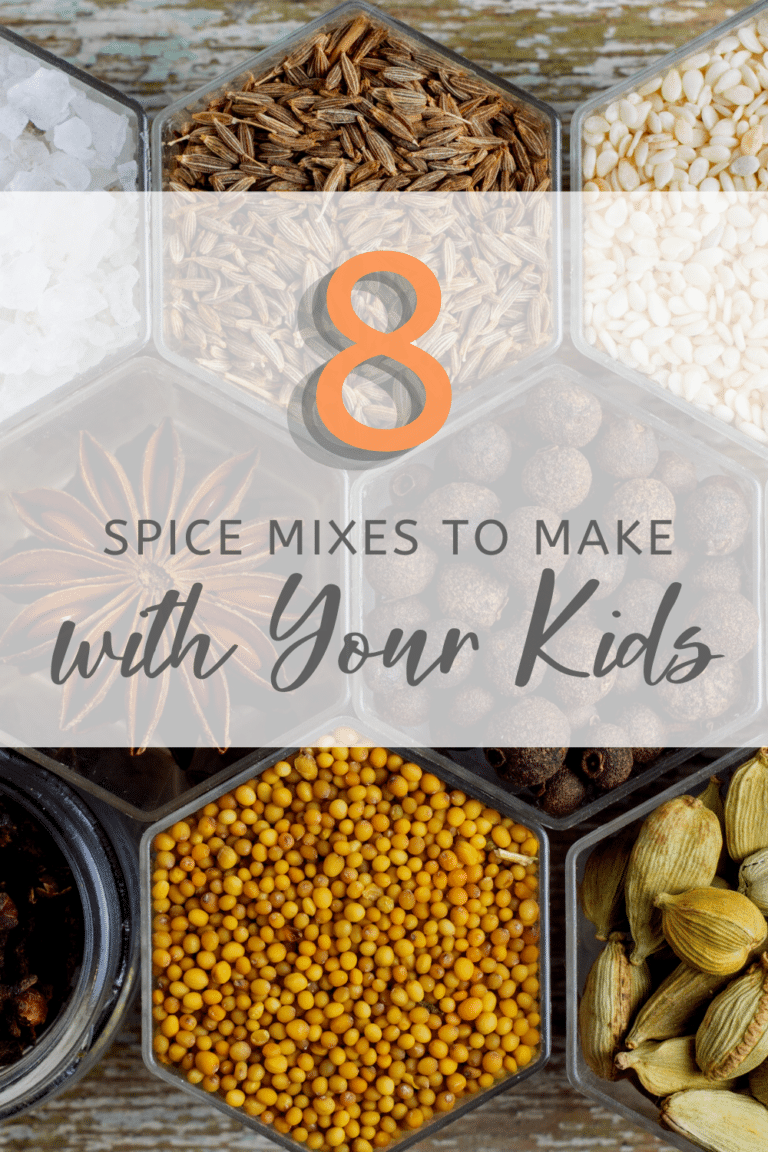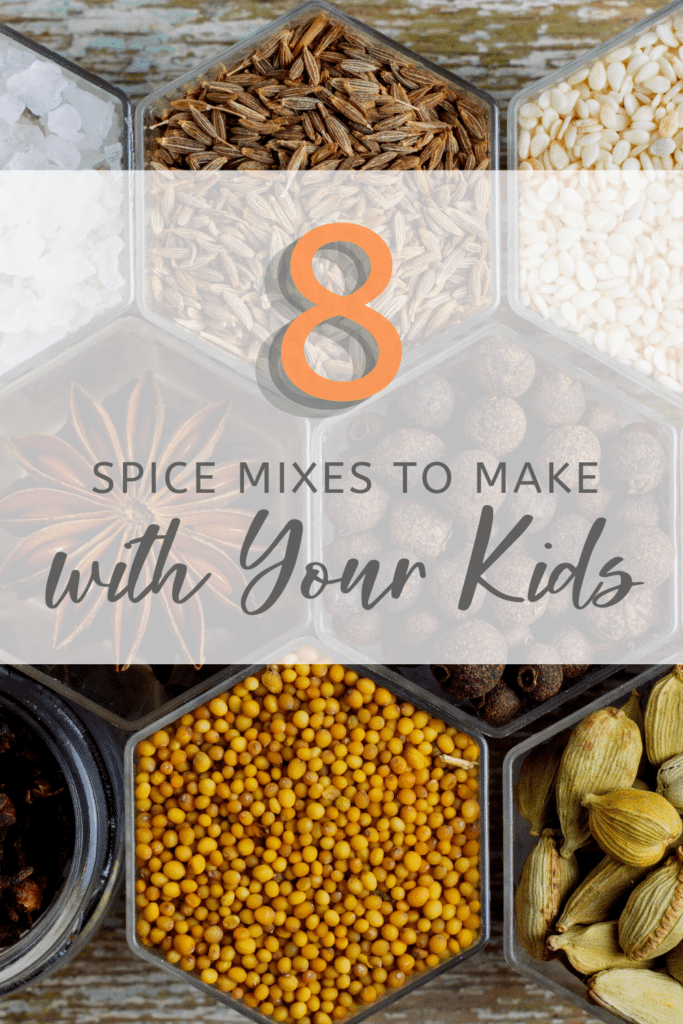 Supplies you will need for spice mixes to make with your kids:
Clean spice bottles or jars
If you want to store this on a spice rack like a normal person (haha), these spice jars are the ones for you. If you'd like to only mix these up once every few years, go for the large jars!
Sticky labels
The chalkboard labels that come with the bottles and jars above are great! But a more permanent option for the larger jars that also includes labels with lines (to write ingredients of the mixes) is these beautiful lined decorative labels. This is a wonderful lifeschooling opportunity for penmanship! But if your child wants to be more creative with the lettering and even add some doodles, pick these large, plain white labels.
Markers or pens
If you order the spice bottles or jars above, they come with a nice erasable white chalkboard marker. Otherwise, for standard labels, have some fun with these colorful gel pens.
Spices, of course!
We used to order from Mountain Rose Herbs, but when they proudly supported and praised an "abortion doula," we decided to find a new source. Now we order primarily from Azure Standard, a Christian-owned company that sells all kinds of foods in bulk.
Books on spices
You can extend the learning in this lifeschooling experience by adding some great books for learning about spices. Here are a few from my own shelf:
Recipes from the Herbalist's Kitchen – This beautiful book is one of many inherited from my dear mother-in-law's bookshelf after she passed away. It goes over the healing qualities of various commonly-used herbs and then has recipes for them.
School of Natural Healing (Fifteen Edition) – If you're looking for a medical-type book on herbs, this book written by a master herbalist, Dr. John R. Christopher, is a great choice! This was a gift from my mother-in-law and such a wealth of information! It covers some herbs commonly found in kitchens, like thyme, garlic, and sage, but most of the herbs are mainly medicinal in their usage.
There! You're all set to start blending.
Note that the amounts are generally accurate for the average palate. Play around with these and add more or less depending on your preferences. The poultry seasoning and pizza seasoning are measured for bulk mixes, but the rest will have to be multiplied if you want to fill a large jar.
Also, my advice is to write out the recipe for the mix on the jar's label. That way, you don't have to look it up every time you want to mix up a new batch! Of course, this will work better with large jars.
Eight Great Spice Mixes to Make with Your Kids
1. Chili Seasoning
• 4 tbsp chili powder
• 4 tsp ground cumin
• 1 tsp cayenne pepper
• 1 tsp garlic powder
• 2 tsp onion powder
• 1 tsp salt
• 1 tsp pepper
Add 2 tablespoons of chili seasoning to one pot of chili.
2. Chinese 5-spice powder
• 1 tbsp ground cinnamon
• 3 star anise, ground
• 1 tsp crushed fennel seed
• 1/2 tsp freshly ground black pepper
• Generous dash ground cloves
Add 1 or 2 teaspoons to your stir fries and other Chinese dishes. You can also use it as a poultry rub.
3. Curry powder
• 3 tbsp paprika
• 2 tsp ground cumin
• 2 tsp ground fennel seed
• 2 tsp ground yellow mustard seeds
• 1 tsp chili powder
• 1 tsp black pepper
• 2 tsp ground coriander
• 1 tbsp ground turmeric
• 1/2 tsp ground cardamom
• 1/2 teaspoon ground cinnamon
• 1/2 teaspoon ground cloves
Add 1 or 2 tablespoons of the blend to your curry dishes.
4. Homemade Ranch Dressing Seasoning
• 2 tbsp dried parsley
• 1 tsp dried dill
• 1 tsp garlic powder
• 1 tsp onion powder
• 1/2 tsp dried basil
• 1/2 tsp black or white pepper
Use 1 tablespoon to season 1/4 cup whole milk and 1/3 cup mayonnaise. Whisk together until completely smooth. Use it as a dressing or dip.
5. Pizza Blend (Bulk)
I mix up this recipe in bulk and use it every week to make our homemade pizza sauce. It's the best!
• 1 C. dried oregano
• ½ C. dried basil
• ¼ C. fennel
• ¼ C. dried thyme
• 8 tsp. Garlic granules
• 2 tsp. Cayenne chili pepper flakes
Add 1 tablespoon to your pizza or pasta sauce.
6. Cream of "Whatever" Soups
If you have a recipe that calls for a creamed soup, use this as the base, along with the fresh ingredients, such as mushrooms for a green bean casserole, celery, chicken, and so on.
• 1 cup powdered non-fat dry milk
• 1/2 cup cornstarch
• 3 tbsp chicken bouillon granules
• 1 tbsp minced onion
• 1/2 tsp dried basil
• 1/2 tsp dried oregano
• 1/2 tsp dried marjoram
• 1/2 tsp dried thyme
Cook enough of the main ingredient in a pot until tender, to make a can or two of soup. Add about 1 1/4 cups of water to create a "can", or double the amount for two cans. Whisk in the mix until combined and heat over a medium flame until it reaches your desired thickness.
7. Taco Seasoning
• 2 tbsp chili powder (mild)
• 1/2 tsp garlic powder
• 1/2 tsp onion powder
• 1/4 tsp red pepper flakes
• 1/2 tsp dried oregano
• 1 tsp paprika
• 1 tbsp ground cumin
• 2 1/2 tsp salt
• 2 tsp pepper
Use 2 tablespoons per pound of meat. This will work well with poultry or fish tacos too.
8. Poultry Seasoning (Bulk)
This is another one I keep in bulk. Poultry seasoning is such a good basic blend!
• ¾ C. + 2 Tbsp. Sage
• 2/3 C. thyme
• ½ C. marjoram
• 1/3 C. rosemary
• 4 Tbsp. nutmeg
• 4 Tbsp. Black pepper
Use about 2-3 Tbsp. on a whole chicken.
Final Thoughts
If your kids really seem interested in learning more about cooking and using spices, you can explore different countries through their use of spices in cooking by subscribing to the Eat2Explore cooking kits. It's a really cool way to bring even more learning into the kitchen!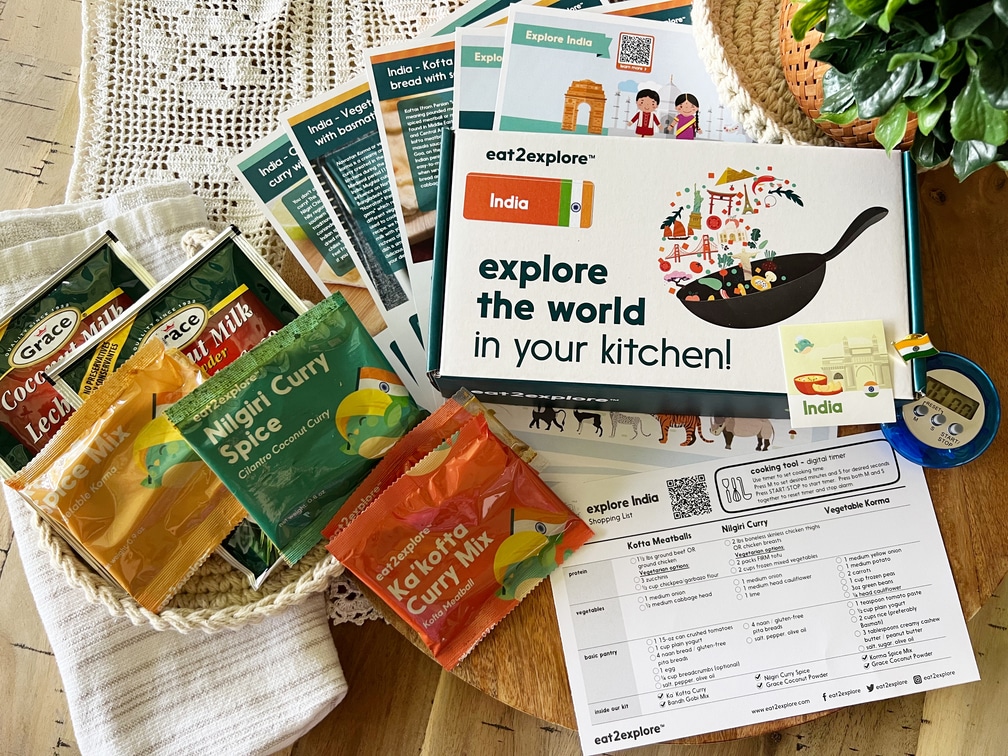 So, what subjects did we cover? I see handwriting, art, and even math for starters, and science, history, and Bible could have also been incorporated easily with the recommended books. Did you find some others to add to the list? Who knew that spice mixes to make with your kids could be so educational?!
I hope your kids have been able to learn a lot while helping to make your future cooking exploits just a little bit easier!