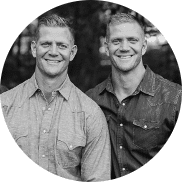 David and Jason Benham
Entrepreneurs
Biography
Twin brothers, David Benham and Jason Benham, pretty much share everything. They shared a womb, shared a room, and now share an office. Oh, and they even share a neighborhood! Growing up in Texas, the brothers both chose to marry northern girls, Lori and Tori (yes, those are their real names).
After spending a few years in professional baseball they each chose to hang up their spikes and move to Charlotte, NC. They started their first business in 2003 and currently own several companies that span the globe. David and Lori have five kids and Jason and Tori have four kids (no, he's not trying to catch up).
If you put all nine of them together you have a dynamic mix that's sure to cause an explosion of some sort!
The Benham Brothers are Christian entrepreneurs helping people like you to live powerfully for Jesus in the areas of leadership, work, family, and culture.